Most Captivating Theme And Amusement Parks In India
Stuck in a rut of working, sleeping, eating, and repeating the schedule for days on end with no interesting experience to look forward to? Do you love thrilling experiences that get your heart racing and you screaming in exhilarating exuberance? Not to worry. Airfarebooking has something in store for you just for this very moment.
We present the most delightful, the most captivating theme and amusement parks of India that will take you for a joy ride and let you leave all your worries behind. From splashing watery rides, twisters, free-fall rides, bumper cars, roller coasters and so much more, India's theme and amusement parks have quite a lot to offer at amazingly inexpensive prices, just like us.
You can choose from water parks, amusement parks, theme parks that offer pools and games, as well as distinct experiences at science museums and adventure parks. Interested in joining us? Book the best cheap flights from Airfarebooking and enjoy yourselves ASAP!
1. Wonderla
Wonderla is a famous amusement park with a chain of parks all throughout India, with one in Bangalore. With more than 50 mind-blowing rides to get your heart racing hard, the choices offered by Wonderla are just too good to pass by.
With launching India's first reverse-running roller coaster, it got very popular and attracts thousands of visitors and thrill-seekers every year. It also has simulated space adventure, 3D movie theatre, and thrilling roller coasters to enjoy all year round.
Ticket Pricing: Rs. 550 to 1500
Timings: 11 a.m. to 6 p.m.
2. Kingdom of Dreams
Kingdom of Dreams is not your regular theme park with amusement joy rides, it has its own unique charm of the diverse and rich culture of India through culinary arts, immense entertainment options including street entertainment, and Bollywood musicals, among much more.
The place is a teeming exhibition of old-world charms and new-age technology with numerous visitors looking to indulge themselves in humor and thrilling fun with your friends and family. So visit here with the help of cheap air travel from Airfarebooking.
Ticket Pricing: The culture gully costs Rs. 600 per person. The bronze range entry fee is INR 1,249 per person on weekdays and INR 1,499 per person on weekends.
The silver range entry price is INR 1,499/- on weekdays and INR 1,999/- on weekends. The Gold range entry price is INR 1,999/- on weekdays and INR 2,499/- on weekends.
The platinum range entry price is INR 2,499/- on weekdays and INR 2,999/- on weekends. The entry price for the diamond range is INR 2,999/- on weekdays and INR 3,999/- on weekends.
Timings: 12.30 p.m. to 11.30 p.m.
3. Imagica Adlabs
Counted among the best amusement parks in India, Imagica Adlabs is fashioned after Universal Studios. It is situated near Lonavala, smack dab in the middle of Mumbai and Pune. Offering 4D experiences, over 35 attractions, and India's largest roller coaster, it spans over a large area of 130 acres of land for entertainment.
It has also developed over time to include a snow park, a water park, and 8 themed eateries with fun menus to choose from. From live performances and entertainment options to yummy food, water slides, and games, anything and everything is available here in Imagica, including fitting 15,000 guests at once.
So don't wait and book your flights to Mumbai from Airfarebooking now to avail of unimaginable prices.
Ticket Pricing: Starting from Rs. 1000 per person
Timings: 11 a.m. to 8 p.m.
4. Ramoji Film City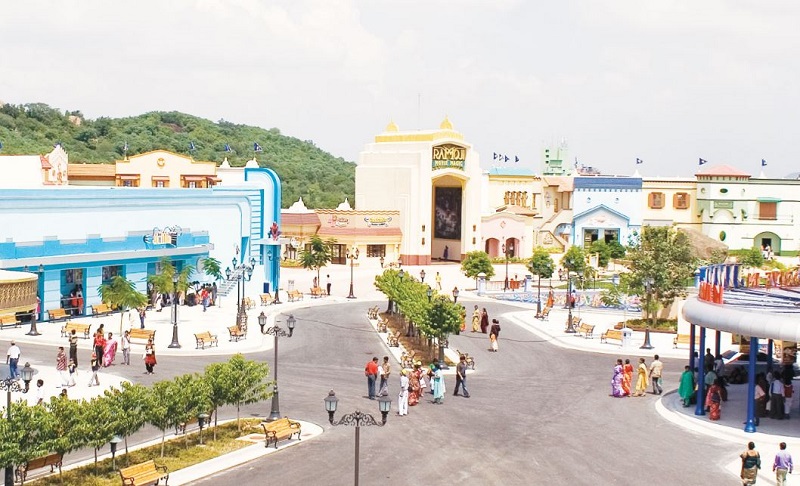 Located near the outskirts of Hyderabad city, Ramoji Film City is a great choice for those who have a passion for film and theatre, and have a zest for filmy Bollywood entertainment. It is primarily a ginormous film complex, which is the world's largest according to the Guinness Book of World Records.
It includes a butterfly park, a bird park, and a theme park with numerous entertainment options, including enthusiastic rides. It is a one-of-a-kind amusement park with its eccentric decor, and countless huge replicas of world-famous architecture in the area, which attracts more than 2 million visitors every year from all around the world. It also makes for great picturesque memories for a pretty affordable price.
Ticket Pricing: Rs.1150 for an adult and Rs. 950 for a child
Timings: 9 a.m. to 5.30 p.m.
5. Essel World
Essel World is India's first full-fledged full-scale amusement park that opened in 1989. It has over 70 intensely thrilling joy rides, an ice skating rink, a Water Kingdom water park, a large bowling alley, and many more exciting events when Holi arrives.
While it is a more traditional approach to amusement, students and youngsters still spend their summers here to get their dose of regular fun, making it one of the best options to visit with your near and dear ones.
Ticket Pricing: Rs.1190 for an adult, Rs. 400 for a senior and Rs. 890 for a child
Timings: 10 a.m. to 11.30 p.m.
6. Della Adventure Park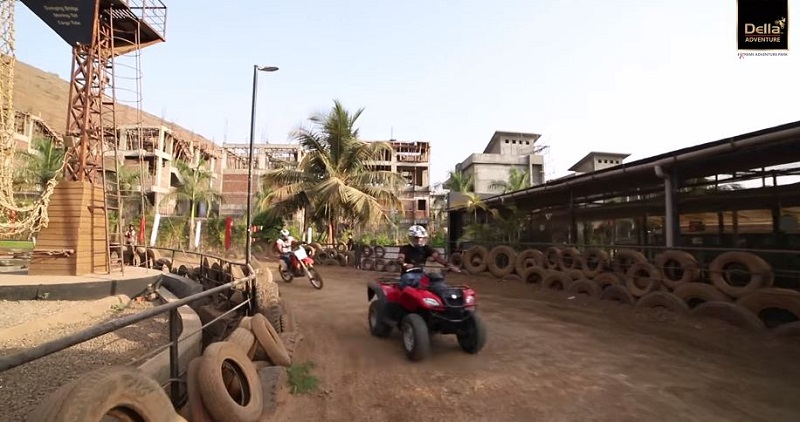 Della Adventure Park is situated in Lonavala, just like Imagica Adlabs. However, this adventure park is renowned for bringing out your wildly adventurous and daredevil side with its exhilarating activities.
Think paintball, ATV rides, shooting, archery, dirt bike rides, and rock climbing among many other such activities that bring out your competitive side. Get your dose of adrenaline boost with this park and stay over for extended periods of time if 1 day isn't good enough for you. It is conveniently providing high-class resorts for staying purposes.
Ticket Pricing: Rs.2500 per person
Timings: 11 a.m. to 7 p.m.
Want to indulge yourselves in visiting theme and amusement parks in India now? Book your cheap flight ticket to India from Airfarebooking and see it all in person, along with your friends and family. Happy journey.
Also Read: Best Places to Visit in Ahmedabad