Essential Tips for Flying and Traveling with Babies and Toddlers
Flying is already stressful for many of us. But, flying with a baby is a hundred times more challenging. The first thing you need to carry is the necessary equipment. Additionally, there are issues with the available space. The infant itself is the last component. Will she go to bed? Will he cry? Will the other travellers understand you or will they just give you dirty looks? Even if you were a seasoned traveler prior to becoming a parent, flying with a baby or toddler can be a scary experience.
If these are all the questions that are worrying you. You're not alone; even the best of us go through it. And despite our best efforts, babies are still babies and do what they want to do. Therefore, put your worries aside and enjoy your international flight from Canada to India with your child. Just keep in mind these essential tips for flying and traveling with babies and toddlers to make your journey easier!
1. Plan Ahead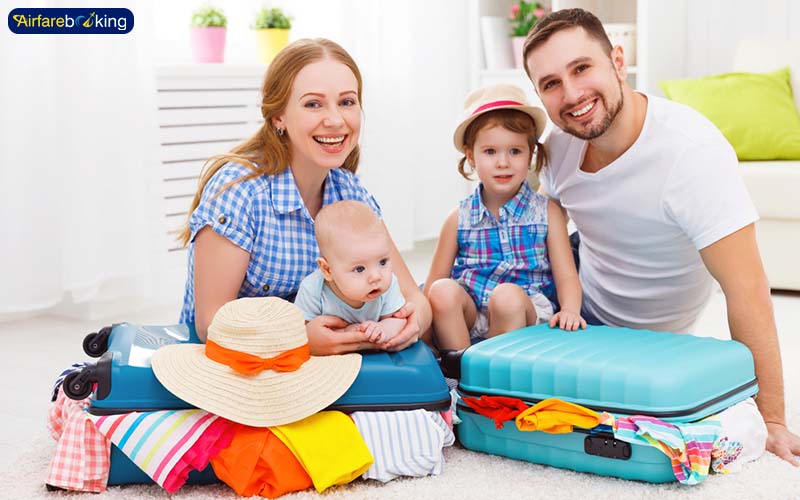 Plan your trip thoroughly before you leave. Schedule departures during your child's nap or bedtime if you want them to sleep the entire flight. When choosing seats, greater legroom or a bulkhead seat with a bassinet attachment for infants can greatly enhance comfort.
2. Try Choosing Direct Flights Over Connecting Flights
When booking your tickets, make sure to choose direct flights over connecting ones. Why, you may ask? Checking in with a baby is acceptable for one journey, but what if you had to do it on multiple flights? That's not exactly a happy picture, is it? If you have to pick a connecting connection, the planes with lengthier layovers are the best options.
Make sure there is enough room between the two flights. You don't want to hurriedly move from one side of the airport to the other with your infant and all of your bags just because you have a connecting flight. Furthermore, you can visit Airfarebooking to book affordable direct flights from Canada to Mumbai.
3.  Documentation
Make sure you have all the necessary documentation, including your child's birth certificate, passport, and any necessary visas. It is a good idea to pack both physical copies and digital files to prevent any issues while traveling.
4.  Use Restroom Before Flight
Your infant must always be kept dry. No matter if you are traveling with a baby or a toddler, it is advisable to give them one last tour of the lavatory so you don't have to keep running to the airplane bathroom.
5.  Make Full Use of Per-Boarding
Even though it may seem odd to some, pre-boarding is a practical way to keep your child happy. Avoid the crowd and bring your youngster on board before the other passengers do! This will not only occupy your infant, but it will also simplify things for you by enabling you to unwind.
6.  Bring Twice as Many Baby Essential
You may be wondering if newborns really require that much clothing and food! However, it is a good idea to include extra snacks, diapers, and napkins for your baby. You never know what might occur while you're taking your international flight from Canada to India or anywhere else. You can miss your flight or wind up staying in a motel with your infant. A baby can never have too much of anything, even if you have extra luggage. So, just to be cautious, bring extras of everything!
7.  Dress Comfortably
The primary concern while flying with a baby is comfort. Because the temperature in an airplane cabin can change, make sure your kids are dressed in warm layers. Choose shoes that are simple to take off to streamline security procedures, and bring an extra set of clothes just in case. Your baby should have a thick blanket because airplanes can feel chilly at times. Don't rely on airplane blankets. Additionally, comfortable attire is also a smart choice for you.
Also Read: How do you find the Cheapest Canada to India Flights?
8.  Be Mindful of Ear Pressure
Takeoff and landing may be painful due to the varying air pressure. When this occurs, breastfeeding or bottle-feeding neonates may assist to reduce ear pressure. Offer a drink, a lollipop, or a dummy to toddlers.
9.  Save Your Child from Dehydration
Dehydration can occur while traveling by airplane. This condition affects infants more swiftly than it does adults. Therefore, we strongly advise you to take extra precautions to keep your child from dehydration. When traveling with a baby, always pack water. Additionally, you might ask the flight attendant to reheat some water for your baby.
10.  Distract Your Infant's Attention
Bring enough distractions for your baby. You can utilize picture-filled magazines, tiny travel items, and even the airplane's instruction book! These will keep your baby busy and distracted the entire flight.
11.  Stay Calm and Patient
Traveling with young kids can be unpredictable. Try to be calm and patient even when things are challenging. Your attitude and behavior can significantly influence your child's actions and life in general.
Wrapping Up
So, is it challenging to bring a baby on an airplane? Indeed it is. However, it is no longer bothersome! Keep these suggestions in mind after purchasing online flight tickets from Canada to India with Airfarebooking.ca. Or for booking a USA to India flight visit Airfarebooking.com.  With these tips, you'll be in a position to finish your work swiftly and travel securely. One additional thing: A child under the age of two does not require an airline ticket. However, if you need more space for you and your family, you can always purchase an extra seat for them.
Also Read: Best Places to Visit in Mumbai for an Unforgettable Adventure