Top 10 Street Shopping Places in India
With the recent rise of travel after the long pandemic lockdown, the various street markets are also resuming their work to cater to all types of travelers. Especially for those who love traveling to collect knick-knacks, souvenirs, and cultural specialties on a budget- street shopping is practically a boon. You can get competitive prices for quality products, and as an added plus, you can always bargain your way to cheaper prices. Whether you love to shop or it is a simple necessity, street shopping will get you everything at unimaginable prices ( That's similar to how Airfarebooking.ca provides you cheap air travel! ).
What are the famous places for street shopping in India?
While there are many street markets in India, a handful of them surpass the rest by a large margin. These street markets include:
1. Colaba Causeway Market, Mumbai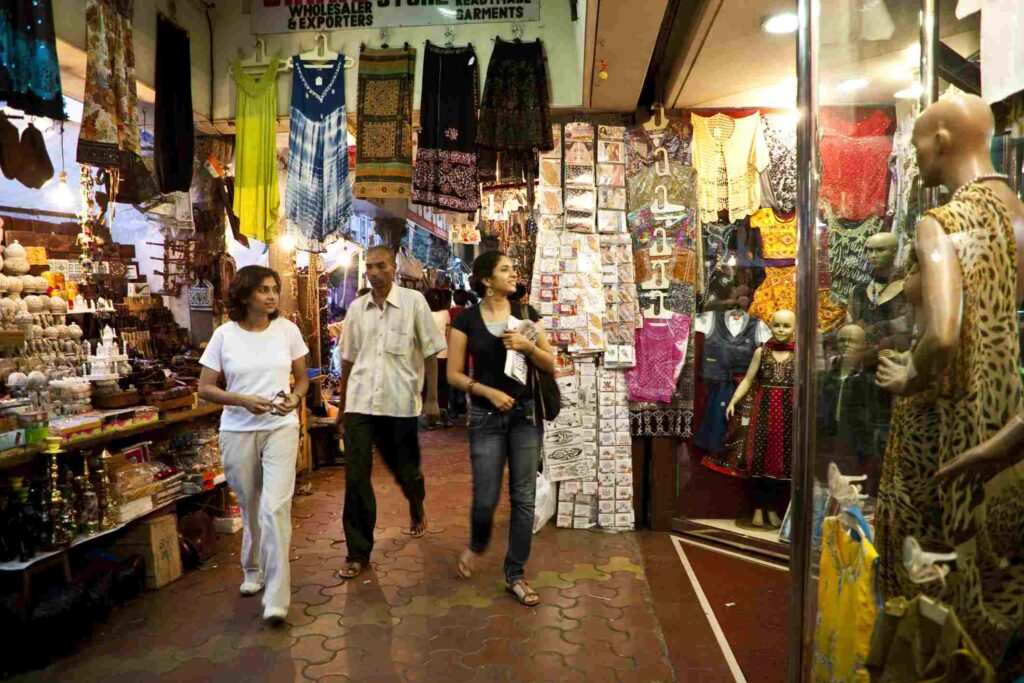 This is a one-lane street market with everything from watches, bags, clothes, expensive bridal couture, shoes, books, and all sorts of stuff. Vendors here sell similar products, making it easy to bargain, and thanks to the numerous food stalls, shoppers can always grab a bite while shopping.
2. Sarojini Market, Delhi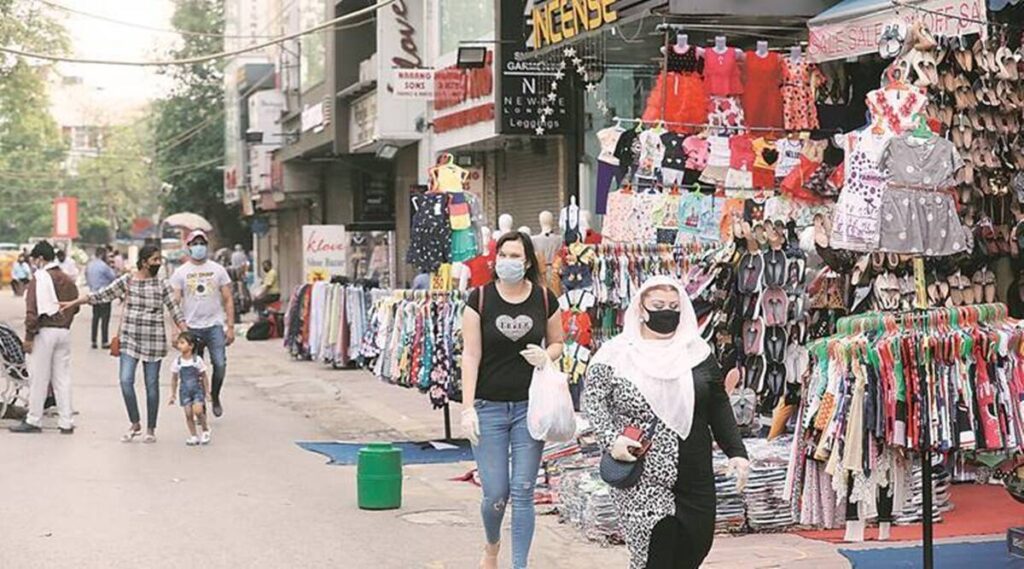 This unique market is one of the few places where shoppers can their hands on branded items at 1/4th their price. You can get branded western wear like jeans, tops, tees, palazzos, ethnic wear like suits, kurtas, shawls, dress materials, jewelry and shoes. Don't forget to indulge yourself in some mouth-watering steamy momos and sweet potatoes when you're there.
3. Hawa Mahal Market, Jaipur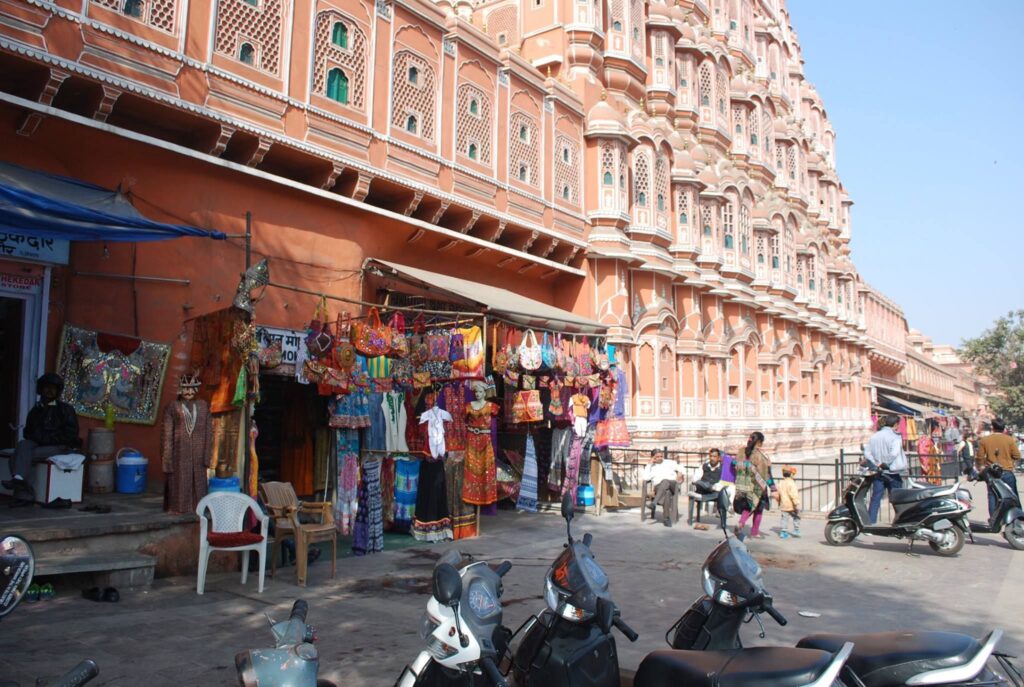 Hawa Mahal is a tourist attraction itself and the market set outside has local vendors selling lehengas, jewelry (semi-precious & precious), Jaipuri juttis, carpets, mini souvenirs, artifacts, and delicious edibles. Airfarebooking recommends getting some rare goat leather bags, Sanganeri print kurtis, mirror- work and pottery items here.
4. Sadar Bazaar, Lucknow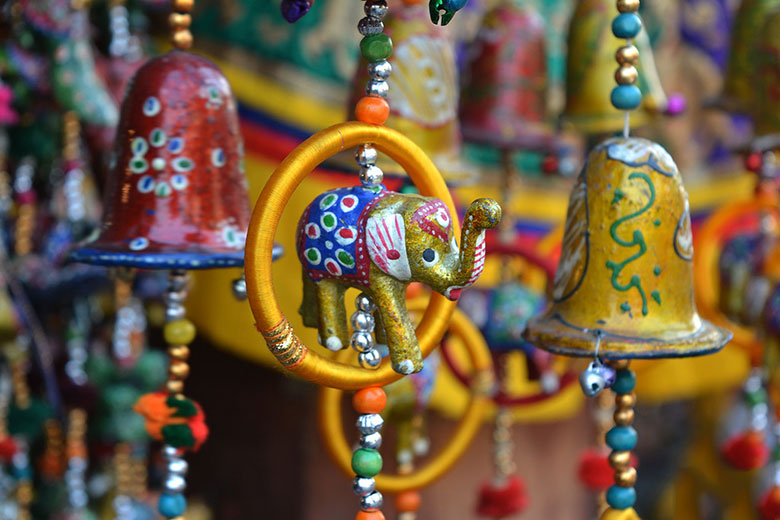 Lucknow is known for its textile industry and Nawabi food. With beautifully embroidered dress material, traditional men & women wear, bedsheets, ornaments, home décor items and traditional carpets.
This is an absolute treat for jewelry lovers, as it has a wide collection of nose pins/ rings and earrings. Airfarebooking especially recommends checking out the Lucknawi chikankari cotton, which is an absolute delight.
5. Commercial Street, Bangalore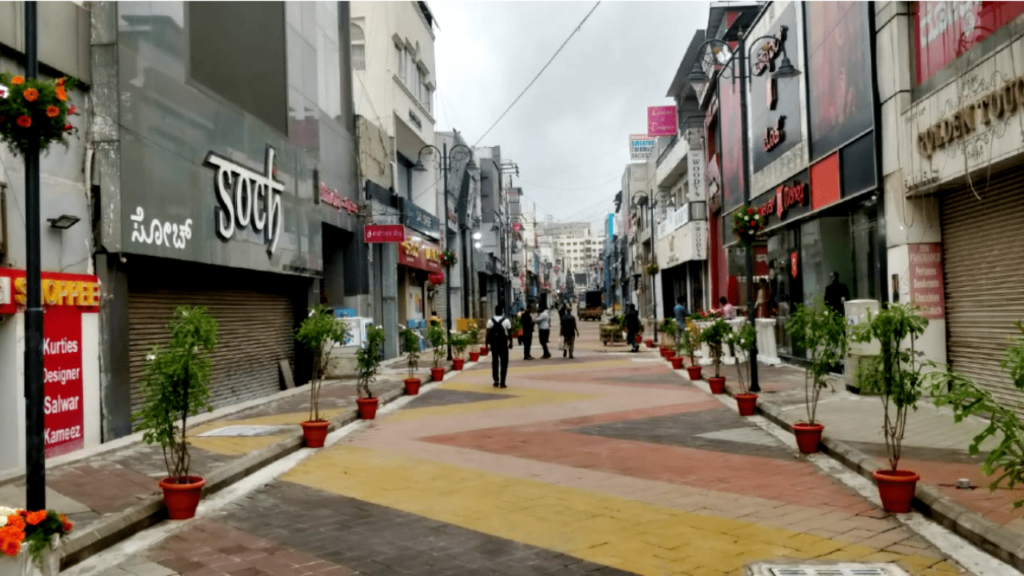 This is a maze of local vendors, shop stalls, and food joints where you can find a range of items from inexpensive to extremely expensive products. From imported cosmetics at discounted prices to blouses and lehenga- cholis, bridal lehengas & gowns, trending clothes, western wear, dress materials, to local souvenirs and paintings. Everything is available at affordable rates and there's always room for negotiation.
Airfarebooking recommends checking out the delicate pottery and crockery sets, in particular, dinner sets, tea sets, and Surahis. Giant clocks and bell hangings available here are one-of-a-kinds.
6. Pondy Bazaar, Chennai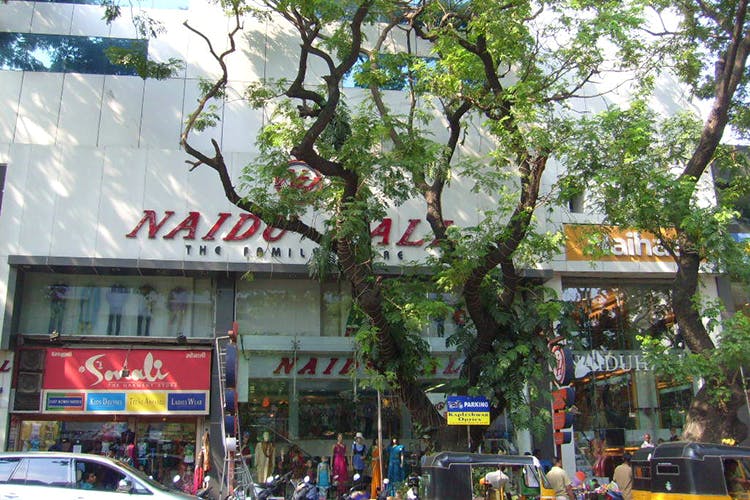 It is also known as Soundarapandian Angadi, and is renowned in Chennai for its vast collection of sarees, dresses, and chappals. With numerous stores catering to clothes, bags, books, jewelry, and toys, from both national and international stores, one can never run out of things to buy when they are here.
7. G. Road, Pune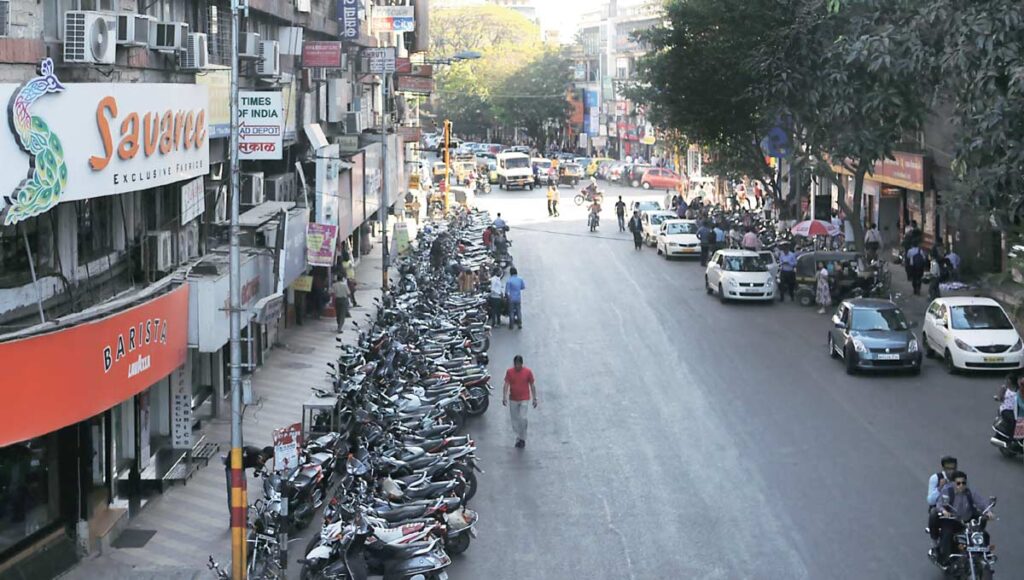 This is practically a road with both street vendors and shopping complexes, with products ranging from Kurtis, shoes, jewelry to jeans, tops, tees, gowns, scarves, and dresses. You can also get books, sweets, socks, and lanterns. Airfarebooking recommends browsing through the unique bridal wear collections that this street market has to offer.
8. Charminar Bazaar, Hyderabad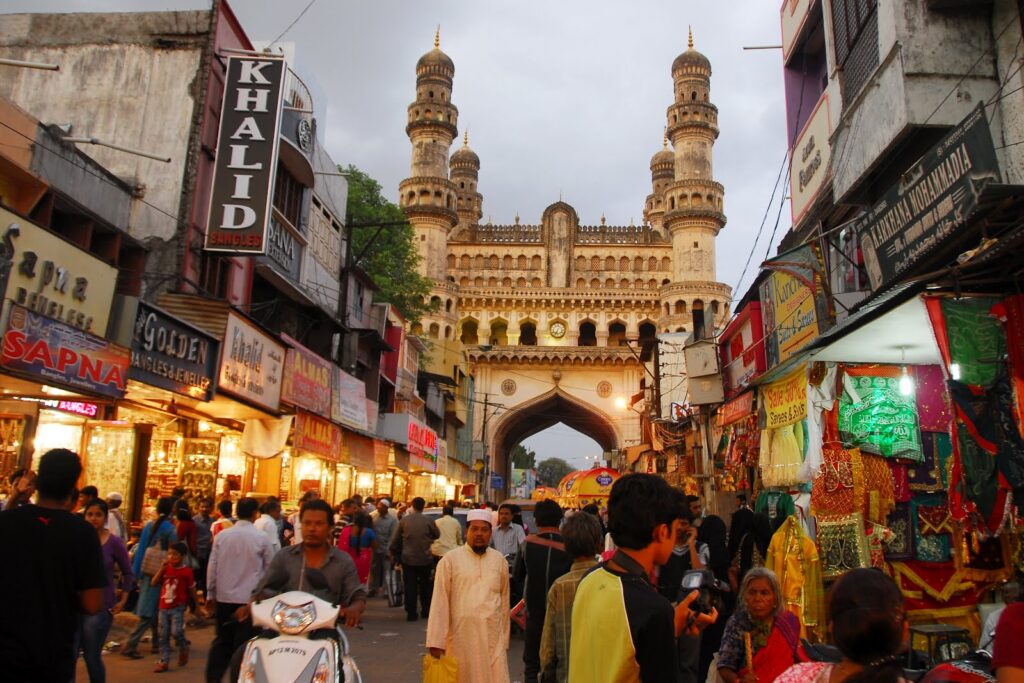 There's more to the city of Hyderabad than just their Biryani. Charminar bazaar is situated just outside the premises of the popular tourist spot Charminar and offers local jewelry and clothing options.
With the touch of popularly famed colorful Basra pearls finding their way in every article- accessories, ethnic clothing, sherwanis, dress materials, and traditional Hyderabadi Khada dupattas, you can find it in colors like peach, pink, gold and darker colors.
9. Anjuna Flea Market, Goa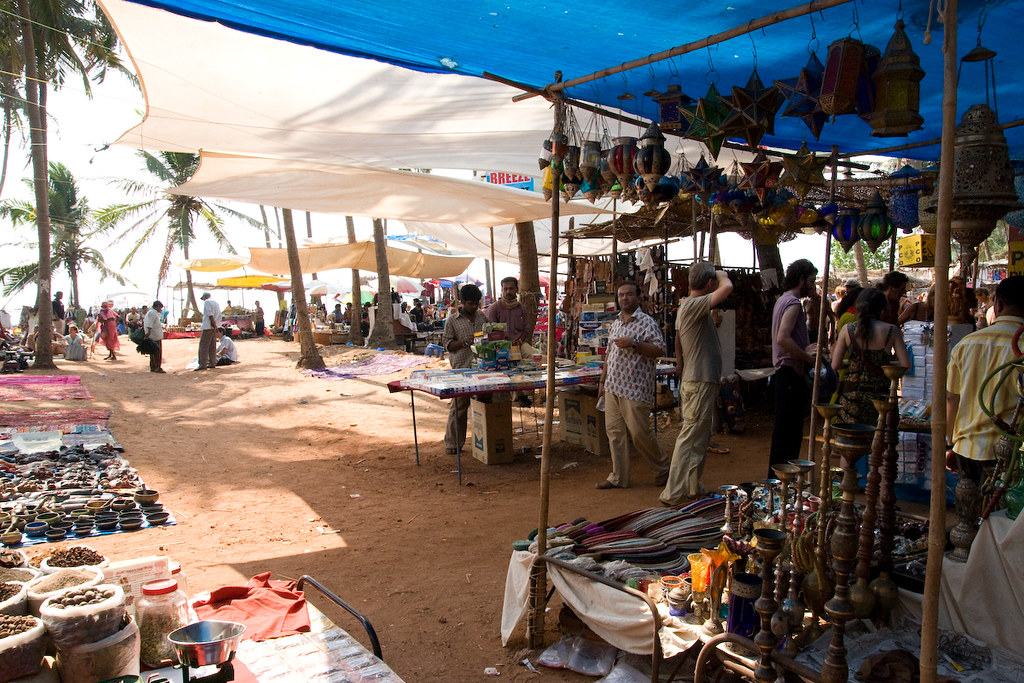 Most vendors here take their place under bamboo huts, makeshift tents, and canopies. Don't let that fool you though, as you can get a lot of beautiful traditional dresses, bags, shoes, hats, scarves, and footwear. With both local and foreign vendors, you can bargain for every rupee you spend on the items.
This is usually only open on Wednesday, and apart from items & vendors, you can also spot all kinds of shoppers. With so much to offer, it is difficult to maneuver so Airfarebooking recommends perusing through the local handicrafts, hammocks, and indigenous spices. You can also enjoy hot chocolate waffles and beer while shopping as you tune in to the live local bands playing open air.
10. Law Garden Market, Ahmedabad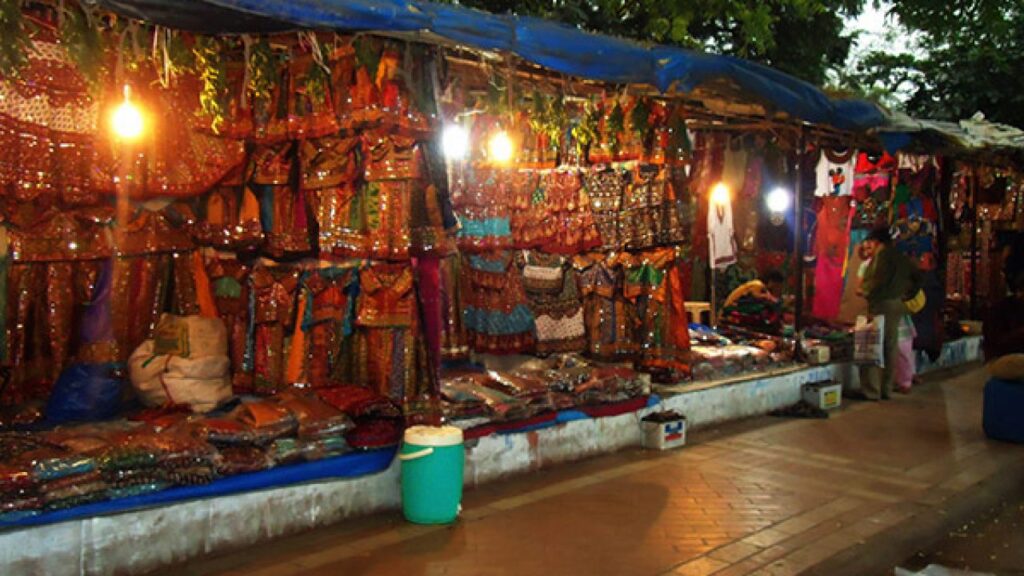 If you're interested in traditional Gujarati clothing and accessories, this market is your go-to. With Gujarati dress materials, dresses, bags, dupattas, blouses, and ornate jewelry to juttis/ mojaris, embroidered bed sheets, paintings, wall hangings, handicrafts, etc. there is no shortage of things to get. Airfarebooking suggests browsing through the exquisite lanterns and mirror work lehengas as they are sure to blow anyone's mind away.
What Are The Pros Of Street Shopping?
Value for money.
More quantity for fewer bucks.
Burning extra calories.
Discovering new things.
Negotiation Skills
Branded clothes.
No irritating salespeople.
Less parking fee.
Heaven for undecided shoppers.
Which City Is Famous For Clothes In India?
Mumbai takes the top place for being the city famous for clothes in India. Having a heavy designer- wear laden market, shoppers can get everything at affordable prices. Other cities include Delhi, Jaipur, and Ahmedabad.
Which Is The Cheapest Cloth Market In India?
Goa is your go-to place for the most inexpensive cloth market in India, as it offers everything a shopper might need. Apart from Goa, one can also opt for Lucknow as it provides quality clothing at the lowest prices.
Tips for Shopping
If you're a pro street- shopper, you'd probably know some, if not most, of these tips. For those who are street shopping for the first time, here is how you can make your experience a whole lot better.
Dress comfortably, but choose basic wear. Vendors increase prices based on the shopper's status of clothing.
Always carry extra cash. Street vendors do not accept cards or net- banking.
Arrive as early as possible. This way you can bargain for cheaper rates as compared to when there's a crowd of other people.
Learn and sharpen your negotiating skills. Most, if not all, street vendors are always open to bargaining for lower prices of the products as they usually quote it high.
Always carry a tote (or 2 or 3) with you as not all street vendors offer to carry bags.
Examine all corners of the product carefully. It may have some wear and tear at the corners and edges. If you're willing to accept it as it is, you would be able to further lower its price.
Don't get carried away by either the vendors' behavior or the vast options available. They are there to sell their products and lure customers with sweet talk.
Don't show your emotions on your face. If you like a product, try not to show you're excited because if the vendors notice it, they won't be willing to bargain or lower the price.
So, book cheap flights to India now with Airfarebooking and shop your heart out!