Lonavala – Hypnotic Vacation Destination for Family Getaways
Are you finally going on that long-awaited vacation to India? Airfarebooking brings you to the world of lovely Lonavala hills in Maharashtra. Whether you are looking for day trips, cultural tours, walking tours, and sporting events, find your favorite activities in Lonavala. Popularly known as the Resort Town in Sahyadri Mountains, you can enjoy the favorite travel destination of locals and foreigners alike. 
Book flight tickets from Canada to India on Airfarebooking and plan your perfect getaway with family this holiday season. Hillsides are the perfect places to relax and Lonavala takes the relaxing fun up by a notch by bringing in thrilling sports and luxurious resorts. Scroll down and see what you can expect to view, see, and witness in the Jewel of Sahyadri Hills.  The picturesque views are not the only thing that will mesmerize you on the way to your destination this vacation trip. As they say that life is a journey and you are a traveler so enjoy every time. This statement stands true for your journey also as you see the amazing views that the hillside highway offers. Enjoy the site of small villages that you pass through and stop by the point to view the Rajmachi, the glorious fort of Chhatrapati Shivaji, also known as the Pride of Maharashtra. 
Enjoy the lovely eateries like Hotel Chandralok, Cafe 24, and the numerous dhabas that make the foodies go crazy. Try the amazing Gujarati and Maharashtrian cuisines with the famous sweet delicacy called Chiki. FYI, Lonavala is one of the biggest exports of this delish sweet, and trying it here is an unexplainable experience. Spend your time enjoying the various tours with your family and learn more about the cultural heritage of India. You can also go to popular sightseeing and picnic destinations like Ryewood Park, Valvan Dam, Duke's Nose, and others. Book your stay in the grand Fariyas Resort Lonavala which has a nice banquet venue that is perfect for partying or Aamby Valley City which is popular for a luxurious stay with a terrific location and lip-smacking food. Are you wondering how delish the sweet is? Book flight tickets from Canada to India and taste for yourself.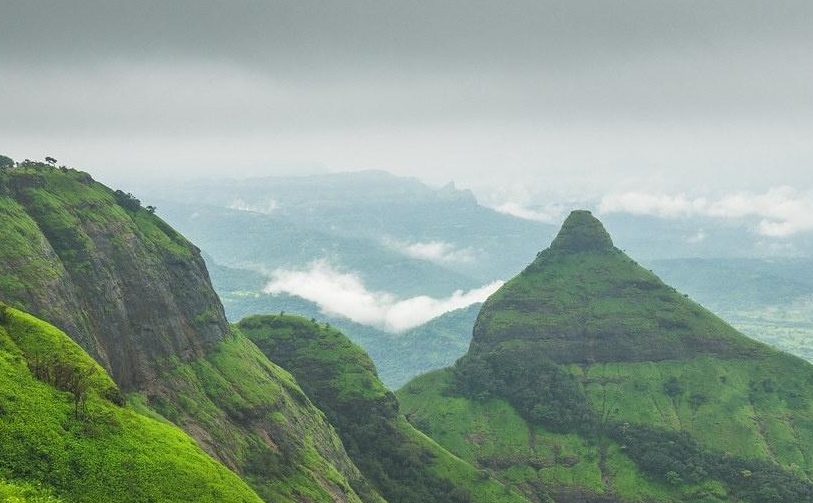 If you are visiting Lonavala during the monsoon then a visit to the Tiger's Point/Leap is a must as it is a wonderful place with a waterfall just beside it. The best thing about this waterfall is that it remains active during the monsoon months only. If you are looking to explore something out of the ordinary then plan a cave exploration tour with your family. The ancient caves of Karla and Bhaja give you a look into the ancient Indians lifestyle in a non-technical world. The caves date back to the 1st Century BC and attract innumerable curious travelers from around the globe each year. This is a glimpse into what all you can see and do in Lonavala. Below we have shared a list of the top thirty places to visit and things to do. You can plan your favorite activities and also include the special demands of your family members. The list of the best places and things to do includes a plethora of options for you like temples, adventure parks, forts, and much more: 
Della Adventure Park

Narayani Dham Temple

Lohagad Fort

Pavana Lake

Tikona Fort

Lion's Point

Wet N Joy Water Park

Karla Caves

Sunil's Celebrity Wax Museum

Korigad Fort

Bhushi Dam

Bhaja Caves

Ekvira Devi Temple

Lucky's Celebrity Wax Museum

Tiger's Leap

Dinosaurs Park

Tungarli Lake

Sudhagad Fort

Rajmachi Wildlife Sanctuary

Kune Waterfalls

Duke's Nose (Nagphani)

Mountain Top Camping

Magic Mountain

Valvan Lake

Valvan Dam

Morvi Dongar

Manoranjan Fort

Kaivalyadhama

A-1 Chikki

Atithi Pawna Camping
There are many more things that you can enjoy on your vacation with your family. Airfarebooking wishes for you to have a safe and memorable vacation with your family. Lonavala is well connected to other major cities like Pune and Mumbai. This means that you can book flight tickets from Canada to Mumbai for the Mumbai International Airport and enjoy the scenic road journey to your destination. It is advisable to book your international flights early and get the best offers with low rates of flight tickets online, contact us on 1-888-275-0882 (Toll-Free) for hassle-free bookings.
Read More:- Top Indian Tech Conferences and Events to Attend in March 2022