Guide for International Travels Between India and Canada
Are you traveling back to your home in India after a long time since the start of the pandemic or planning to pursue your education in Canada? Whether you are traveling between the two nations for academic purposes, business purposes, or other reasons your safety as well safety of others is the first priority. And to make sure that you travel safely and comfortably with us, we have brought you the latest information in this guide for international travels between the two nations. 
Under the India-Canada air travel bubble agreement, certain individuals and parties are allowed to travel while following rules and restrictions on only a few Indian carriers along with Air Canada airlines, who are permitted to operate while the scheduled regular flights remain canceled indefinitely. As the fares for flight tickets are higher than usual, if you are looking for a cheap flight ticket to India then book your flights on airfarebooking.ca with our trusted and experienced travel agents working to provide you with the best services. 
Many people are planning on traveling to Canada in 2022 and for them, the best course of action to take is to follow up on all the necessary protocols beforehand to not face any delay in any step of your journey. 
General Guidelines For Entering Canada from India
There are many policies and guidelines to be considered when traveling internationally but in times of COVID, the most important and up-to-date travel information is shared below. 
Eligibility Criteria – 
Essentially the persons following under the below mentioned can travel to Canada: 
Canadian nationals and citizens who were stranded due to the lockdown.

Foreigners with valid Canadian visas.

Indians with eligibility and valid visas to enter Canada.

Seamen from different nationalities and seamen of Indian passports that received clearance from the Ministry of Shipping.

Only RT-PCR or rapid PCR tests that were taken from the COVID-19 Testing Centre in Terminal 3 at IDGP Delhi, 18 hours prior to the departure of Air Canada flights are accepted. 
If you meet these criteria and are looking for affordable flight tickets, Airfarebooking brings you the low fare deals on flight tickets with super saver offers and more to make your flight journey a memorable experience. 
Vaccinations Accepted Quarantine Information-
The Canadian government is presently accepting four vaccines that are recommended by WHO. The names of these vaccines are- Johnson/Moderna/Pfizer/Covishield. Fully vaccinated passengers are required to provide their vaccination certificate and COVID-19 RT-PCR report bee=fore boarding the plane to Canada. The RT-PCR report should not be older than 72 hours. 
The Quarantine Act allows international travel on emergency orders that do not include travel for tourism, recreation, and entertainment. The documentation of your travels must be true and filled with a self-declaration form for the authenticity of the reports and holding you liable for any discrepancy in them. 
Passengers are required to follow personal hygiene and wear masks while traveling and for the duration, they stay in Canada. The mandatory quarantine is for 3 days of hotel stay and 14 days of quarantine for Indian travelers. 
Travelers are to undergo a molecular test for COVID-19 upon their arrival in Canada and will be provided with an 'At Home Specimen Collection Kit'. On the tenth day of their quarantine,  travelers are to give a third molecular test for coronavirus using this kit. 
Note: People who are fully vaccinated are also required to undergo the mentioned tests. 
These are the general guidelines, procedures, and tests to be followed for traveling internationally to Canada from India. The guidelines for direct flights and indirect flights to Canada from India are shared below. For those returning home from Canada, get last-minute flights to India with amazing deals on airfarebooking.ca with the latest travel information, best customer services, and more. 
Flights from India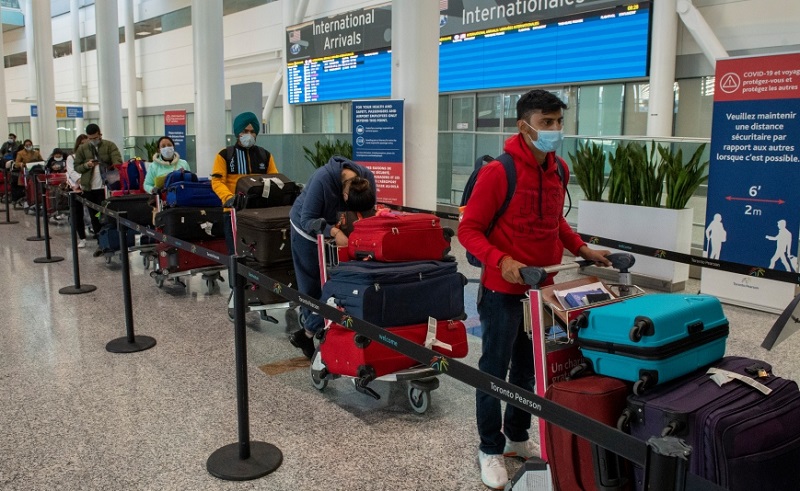 The direct flights between India and Canada are slowly resuming to the pre-covid levels. The following information is to be kept in mind when traveling to Canada from India on direct flights. 
Passengers eligible for entering Canada are to provide a COVID-19 molecular test from the Genestrings Laboratory at the Indira Gandhi National Airport. The test should not be 18 hours older than your flight's departure time. 

The test report and QR code provided by the laboratory are to be presented to the air operator before boarding. 

Travelers who tested positive for COVID-19 previously can present a molecular test from any laboratory in India with data collection between 14 to 180 days before their departure. 
Passengers who are indirectly traveling to Canada via India from third countries are also required to provide a negative coronavirus molecular test report pre-departure from the third country before continuing their journey to Canada. 
Airfarebooking has brought you updated information from reliable sources to make your journeys eventful. Let our travel agents help you to save greatly on your next flight with flight offers and holiday packages for your solo travels, group travels, corporate travels, and more. You can call us on 1-888-275-0882 for any queries or know about the existing offers.