5 Tranquil Hotels in Srinagar Near Dal Lake for a Peaceful Getaway in 2023
Kashmir is undoubtedly a heaven on Earth. Srinagar, the capital during the summer, is the jewel in this stunning setting. Srinagar is one of Kashmir's most incredible tourist destinations with its tranquil lakes, waterfalls, snow-capped mountain peaks, and attractive gardens. Here is also where Dal Lake, the most quiet and lovely location, is located.
Dal Lake in Srinagar, well-known for its calm waters and attractive surroundings, provides a special fusion of luxury and peace. To enhance your experience, we have put together a list of five outstanding hotels that personify peace and offer an unrivaled getaway from the hustle and bustle of daily life.
These carefully chosen lodgings are the ideal option for anyone seeking a  serene escape in the heart of Srinagar because they not only provide breathtaking views of Dal Lake but also guarantee a haven of tranquility. So, book your international flights from Canada to India through the best online travel website, Airfarebooking, and check out these 5 tranquil hotels in Srinagar near Dal Lake for a peaceful getaway in 2023.
Top 5 Hotels to Stay in Srinagar Near Dal Lake
1. Vivanta by Taj
Srinagar is renowned for its stunning valleys, clear lakes, and imposing mountains. It has a wide selection of hotels to fit all budgets because it is a popular tourist destination. Vacationers can enjoy spectacular views of the surroundings at this resort in Srinagar close to Dal Lake and Gulmarg. The Hotel Vivanta is one of Srinagar, Kashmir's best hotels for guests seeking elegance.
The resort is surrounded by the gorgeous Zabarwan Mountain and offers stunning views of Dal Lake. Thanks to the property's stunning views and warm welcome, you'll feel like a royal. The exquisitely designed rooms of this hotel are outfitted with all the modern comforts to ensure that guests have a relaxing stay.
Distance to Dal Lake: 3 Km
Cost Per Night: Rs. 15,000 to Rs. 80,00
Nearby Tourist Spots: Park Brein, Indira Gandhi Memorial
2.  The Lalit Grand Palace
The Grand Palace Lalit is the best hotel in Srinagar that is close to Dal Lake. It was formerly a Maharaja's palace. It is conveniently located in the middle of the gorgeous Dal Lake and the snow-capped Himalayas. This magnificent hotel has 113 royal rooms in all, including suites and lavish villas.
The multi-award-winning Rejuve Spa, which has an outdoor pool, is distinctive. The in-house eateries The Chinar Garden, The Chinar, and The Dal bar offer an unusual dining experience. Moreover, you can visit Airfarebooking to book cheap business class flights from Canada to India and arrive in Kashmir in style.
Distance to Dal Lake: 2.1 Km
Cost Per Night: Rs. 13,500 to Rs. 1,25,00
Nearby Tourist Spots: The Shankaracharya Temple, Pari Mahal
3. The Swan Houseboat Heritage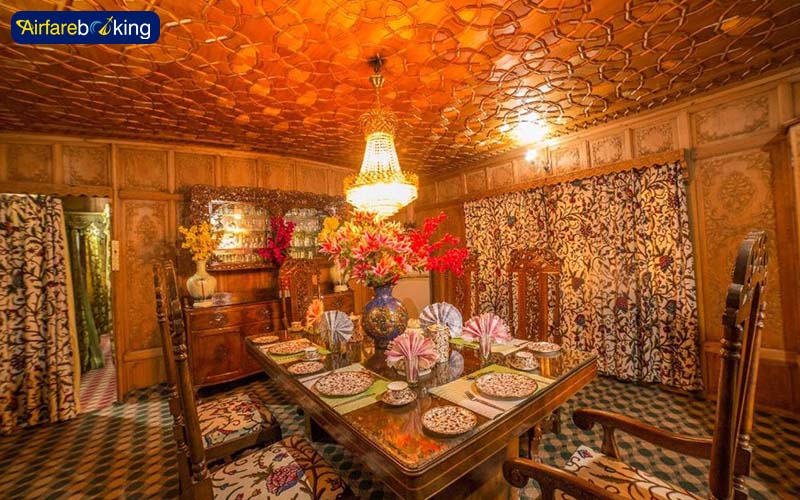 The Swan Heritage houseboats are handcrafted, and the interiors feature fragrant cedar wood that has been skillfully carved. In Srinagar, staying close to Dal Lake is a terrific way to experience the lake's surreal splendor while also enjoying the houseboat's view of the snow-capped Himalayas.
The flooring and hallways are decorated with handmade rugs and carpets. You could catch a peek at Kashmir's rich cultural legacy while residing on the houseboat. Family vacationers will find this to be one of the top resorts, and newlyweds will certainly enjoy their stay there.
Distance to Dal Lake: 8.9 Km
Cost Per Night: Rs. 8,500 and above
Nearby Tourist Spots: Royal Kashmir, Hazratbal Dargah Sharif, Jammu & Kashmir Tourism Development Corporation
4. Chicago Houseboat Group
Thanks to the Chicago Group of Houseboats, you may enjoy Dal Lake's spectacular magnificence while relaxing on a houseboat and admiring the beauty of the tranquil surroundings. The two- and three-bedroom Chicago Group houseboats are situated on the Dal Lake's shoreline.
The houseboat's rooftop sundeck provides breathtaking views of the sunrise and sunset. Living on a houseboat among the stunning Himalayas with the Chicago Group of Houseboats is a unique experience. This budget-friendly hotel next to Dal Lake offers top-notch amenities and services that will make your stay unforgettable. So, visit Airfarebooking today and grab the best last minute flight deals from Canada to India.
Distance to Dal Lake: 8.5 Km
Cost Per Night: Rs. 4,000 to Rs. 8,000
Nearby Tourist Spots: Nehru Park
5. The Heevan Resort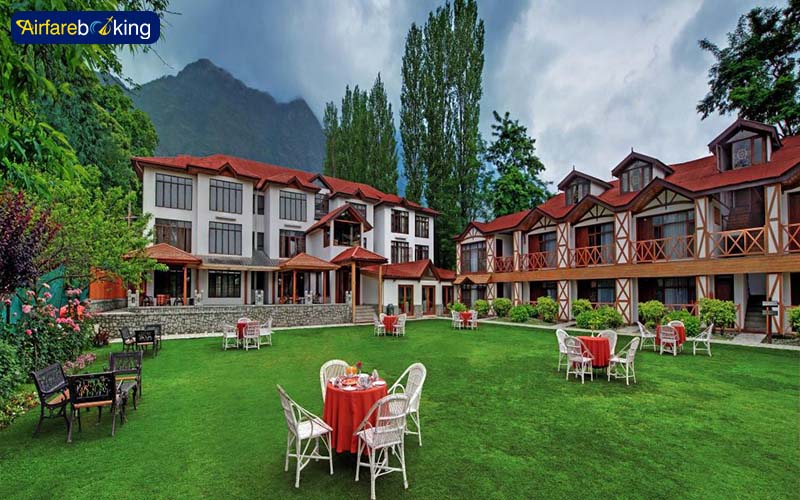 The gorgeous and sumptuous Heevan Resort is located in Srinagar, adjacent to Dal Lake, and encircled by the picturesque Zabarwan Mountains. The hotel's main selling qualities are its immaculate public spaces and well-kept gardens. The resort is close to a number of popular tourist destinations, including the renowned Mughal Gardens.
The resort offers special candlelight dinners with bonfires in addition to the delicious food it serves in its multi-cuisine Dilkusha restaurant to enhance the experience. Their planning for the Shikara ride is outstanding. You can also play golf at the adjacent Royal Golf Course.
Distance to Dal Lake: 12.5 Km
Cost Per Night: Rs. 16,000 and above
Nearby Tourist Spots: Shri Gauri Shankar Temple, Overa Aru Wildlife Sanctuaries
Wrapping Up
The aforementioned list includes 5 popular hotels in Srinagar that are close to Dal Lake and offer a special fusion of luxury and peace. Stay at one of these luxurious hotels to experience Dal Lake's magnificence. The Kashmir valley is undoubtedly the most beautiful spot on Earth with its breathtaking green pastures, snow-capped mountains, vivid flowers, and tranquil lakes. So, if you are also planning on visiting this heaven on earth, then make sure to visit the best online travel website, Tripbeam.com to book cheap international flights from USA to India.
Also Read: Stunning Daytrips When You Want To Take A Break From Delhi