Go ahead. Discover this undiscovered craft in India.
Manipur has always been an undiscovered tourist gem in India. There has been no shortage of unique tourist spots or foods to try when you're there. Trust us, we know. However, there is one place that represents the ancient creativity and tasteful cultural heritage of Manipuri tribes even more so.
The Andro village- with its small group of tribe people who practice their prized heritage craft of pottery to this day. This is a rare form of pottery called Charai Taba, a celebrated art form of making pottery that is still ongoing in the village.
Whether you choose indigenous brews and traditional handicrafts, or old folk lore of ancient temples and ruins, you won't want to sit still when you see the breathtaking beauteous view that Andro is famous for.
The name of the village is believed to be originated from the word 'handro', where the literal translation of handro is 'the village of the people who returned'. It is said that when a King pushed residents of Imphal valley to convert to Hinduism from the 1700s onwards, a minor group of Meiteis chose to become social castaways so that they could continue to practice their native Sanamahi faith.
A few centuries later, the Meiteis returned to claim their homeland and it came to be known as Andro village. King Poireiton of the Khuman clan worshipped the deity Panam Ningthou by lighting an eternal fire dedicated to the deity. Then onwards, every 2 households in the village are given the responsibility of managing the sacred fire for one day. 2 other households are entrusted with this responsibility the next day and this process goes on throughout the year until all the houses have borne this responsibility at least once a year.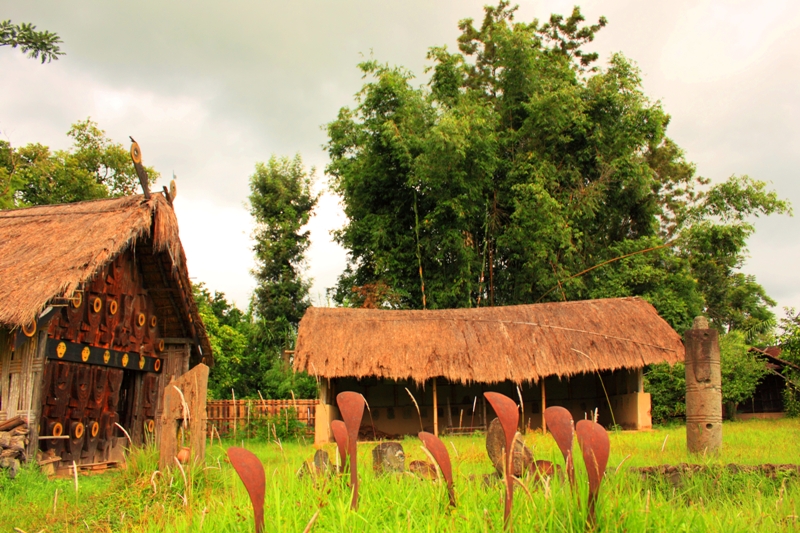 The citizens of Andro are skilled in several handicrafts, yet are very down-to-earth, warm and humble. They are dedicated to upholding and preserving their customs and traditions. Hence, it became the reason why the residents founded a cultural complex-cum-museum that has become the best location in the village for exhibition.
What is Charai Taba?
Charai Taba, also known as coil pottery, is a way of making clay pots by making and stacking loops of clay (called Charais) and molding them together one by one to form the shape and curves of a pot. A Charai Taba potter uses a flat stone and a bat instead of the pottery wheel to beat the clay into shape. Instead, they use the pottery wheel for precision molding than to give the pot its shape.
After the flat- surfaced bat is used to mold the clay into wanted design, it is sun- dried for 4 days and is then baked in a fire. The pottery works are given a unique shine using a natural dye produced from the bark of a local tree. Apart from pots, vases, lamps and piggy banks are also made.
They work without any kind of motor, relying only on their handiwork skills. Charai Taba is made and passed down by generations of married women- generally by the mother-in-laws to the young brides. This craft is taken up by married women only after they have undergone a traditional ceremony known as Thou Chanba, which means job assigning ceremony.  It is not allowed to be done by unmarried women & girls.
The pots are various varieties of traditional pots like Pudond Makhong, Wangkham, Kambi, Kambi Makhong Panba, Walom, Ngangkha, Yukhum, and Eshaiphuetc. The Meiteis have been using these pots over the centuries for cooking, saving seeds, and drinking water. They also use the pots to store Yu, which is a sacred, local alcoholic rice brew.
Yu is very important and used in almost every Sanamahi ritual- from birth ceremonies, marriages and death ceremony. In fact, the links between Yu, culture, pottery and religion are so deep that even though this is a dry town, the citizens of Andro are allowed to continue brewing their Yu.
Thanks to the recent wave of Indian travel rising after the serious developments in the area, the footfalls of tourist have been increasing in Andro, Manipur. From the reservoir, a nature park, an orchid farm and a museum, visitors are promised a serene and tranquil vacation spot anytime they visit this hidden gem of Manipur.
So don't wait anymore to book the best cheap flights with us for all airlines flights. Visit now!