Qatar Airways: Everything You Need to Know About this Prestigious Airline
The multiple award-winning airline, Qatar Airlines is the flag carrier of Qatar and is headquartered in Doha's Qatar Airways Tower. The airline serves six continents and is amongst the best and youngest international airlines in the world. Book direct flight tickets from Canada to India and fly with Qatar Airways to your dream destination.
Qatar Airways (QR), which was named "Airline of the Year" in 2017, is renowned for being one of the airlines with the quickest rate of advancement in the world. The airline's base is at Doha's Hamad International Airport, from which it runs a fleet of more than 180 aircraft. Qatar Airways became the first significant Gulf airline to join the prestigious Oneworld Alliance in 2013, making history.
Qatar Airways carries an excellent reputation amongst travelers worldwide. The prestigious airlines fly to over 160 destinations around the globe and have Group employs more than 43,000 people. The carrier has been consistently voted the world's best airline and makes a good deal of seats in all classes available to partner airlines.
The airline takes care of everything in the air for its customers, especially entertainment. With Qatar Airlines, travelers in all cabins are treated with an interactive on-board system, this way the travelers can pick what they want to watch or play. So, book cheap flight tickets from Canada to India with AirfareBooking and experience the luxury of Qatar Airways.
Brief History of Qatar Airways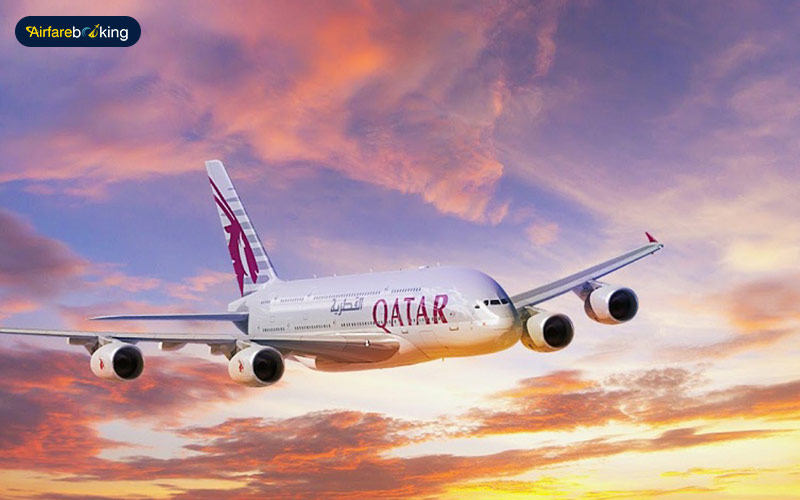 The prestigious airline was founded for the first time in the month of November of 1993. Early the next year, flight operations were launched. Sheikh Hamad Bin Ali Bin Jabor Al Thani, who was Qatar Airways' (QR) CEO at the time, employed all 75 of the company's employees in 1995. The airline grew tremendously over the years and is now one of the most well-known in the globe. Using aircraft from the most recent generation, it offers service to more than 160 locations worldwide. The airline has won numerous accolades throughout the years because of its excellent service. Aside from designating it Airline of the Year for the years 2011, 2012, 2015, and 2017 Skytrax has given Qatar Airways a five-star rating.
Destinations Covered by Qatar Airways (QR)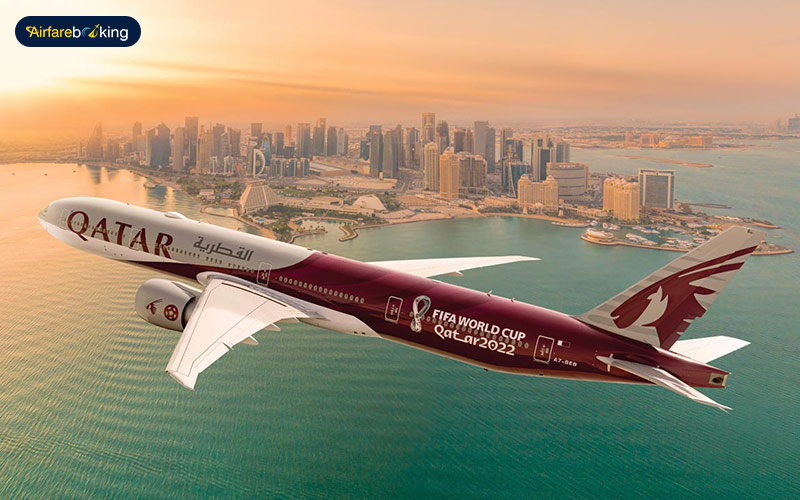 Qatar Airways operates a huge network of international routes out of its hub at Doha's Hamad International Airport. Belgrade, Addis Abeba, Baghdad, Maputo, Perth, Erbil, Warsaw, Saint Petersburg, Kilimanjaro, Zagreb, Yangon, Mombasa, and Kigali were among the additional destinations that Qatar Airways introduced in 2012. The airline provided service to an estimated 146 locations worldwide by 2014. Today, it effortlessly serves more than 160 global destinations after crossing that threshold. If you also want to experience the grandeur of Qatar Airways, then book the cheapest flight tickets with AirfareBooking now.
Qatar Airways (QR) Fleet
Some of the best airplanes in the world are known to be flown by Qatar Airways The airline uses a variety of Airbus and Boeing models to ensure that its customers have access to only the best aircraft. The Bombardier Challenger 605, Bombardier Global Express XRS, Bombardier Global 5000, Gulfstream G500/G600, and Gulfstream G650ER make up Qatar Airways' elite fleet.
Services Offered by Qatar Airways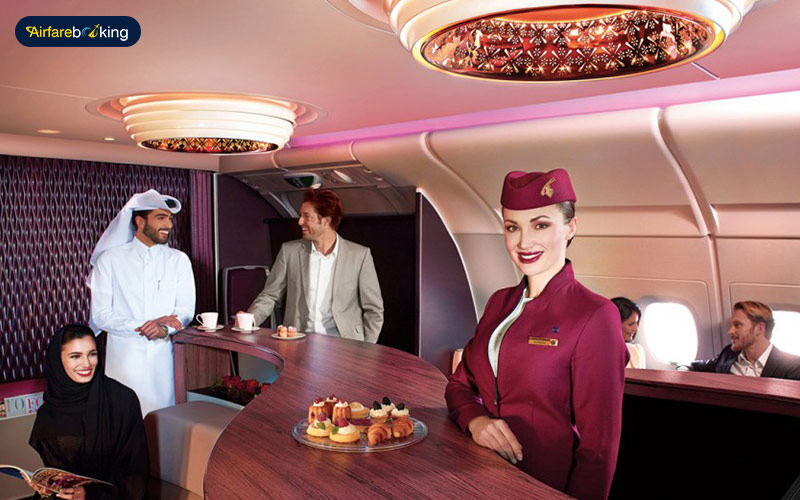 Qatar Airways offer the legroom space of an incredible 6.5 feet to its first-class passengers. Not all this, but the seats of first-class passengers also fold into flatbeds. They are fully equipped with wonderful massage functions as well as a high-tech entertainment system. So, whether you are flying with Qatar Airways from Canada to India or anywhere else, you can just sit back and enjoy your personal 26-inch TV screen that comes equipped with your first-class seat.
If you are looking to experience the ultimate luxury of travel, then you should definitely fly business class with Qatar Airways. The airline provides its customers with the highest luxury, including entirely horizontal seats and easy access to the aisle. This is provided in a 1-2-1 layout on board the Boeing 787, Airbus A350, and Airbus A380 aircraft. In the medium- or long-range aircraft, these are merely marginally different. The most recent addition to Qatar Airways is Qsuite, a luxurious business-class cabin that was unveiled in 2017.
Skytrax awarded Qatar Airways's Economy Class as the best economy class in the world in the years 2009 and 2010. On its A3330/A340 aircraft, the airline provides passengers with personal TV screens that measure up to 34 inches in length. On board, the airline's Boeing 777 and 787 aircraft, passengers have access to touchscreen TVs. Qatar Airways believes in providing the best for its customers, regardless of the class they fly in. Fly with Qatar Airways to your dream destinations by booking the cheapest international flights from AirfareBooking.
Qatar Airways Oryx One in-flight entertainment system is well-known. Except for some Airbus A320 aircraft, almost every Qatar Airways aircraft has a customized TV. Additionally, the airline provides Wi-Fi aboard for connectivity. The fact that this service enables users to send SMS, MMS, check email, and surf the internet makes it remarkable.
The Luxurious Lounge of Qatar Airways
Qatar Airways started operating the Premium Terminal in the year 2006 at the Doha International Airport for its first and business-class passengers. The 10,000 square meter terminal's construction cost US $90 million and took 9 months to complete. There are check-in desks, children's play spaces, duty-free shops, saunas, Jacuzzis, spa services, restaurants, and conference rooms among the amenities. The luxurious business-class lounge now boasts an impressive 80 percent more seating.
The Al Mourjan Business Lounge was established in 2014 for Qatar Airways (QR) Premium passengers. The spectacular lounge is almost the size of ten Olympic-sized swimming pools combined. Only guests flying first or business class on Qatar Airways and One World are allowed entrance to this amazing club.
In January, Qatar Airways (QR) debuted its most recent Premium Lounge at Charles de Gaulle Airport. With the first one located at Heathrow Airport in London, this is the airline's second international lounge.
So, if you are also planning to travel for business or leisure purposes why not fly with Qatar Airways? Book the cheapest international flights from Canada to India with AirefareBooking and fly in the lap of luxury.
Also Read: Emirates Introduces World's First Ever Robot Check-In Assistant, Sara